The Corpse In The Bedroom
Topics in Shakespeare's "Hamlet"
This essay of 100 pages examines Shakespeare's play from many aspects:

Problems of text and performance.
The historical context: Elizabethan and Stuart England
An overview of the many analyses and interpretations of "Hamlet" dating back to the 17th century
Problems of staging
Characterization
Psychology
Philosophy
At the back of the essay one finds a comprehensive bibliography for further study.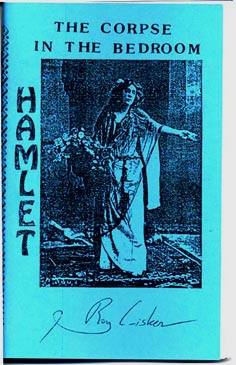 ---
The price of "The Corpse in the Bedroom: Topics in Hamlet" is $15.
---
Send check, cash or money order to:
Roy Lisker
8 Liberty Street#306
Middletown,CT 06457
rlisker@yahoo.com
---