Puerto Rico:Music, Tourism and Politics
The Casals Music Festival of 1982
This essay includes:
(i) interviews with Puerto's major classical composers at that time: Francis Schwarz, Amaury Veray, Hector Campos-Parsi, Rafael Aponte-Ledee, Jack Delano
(ii) Interviews with key personalities in the music industry.
(iii) A history of the Casals Festival.
(iv) A history and critique of the "Casals Legacy": Festival, Conservatory and String Program.
(v)Descriptions of Puerto Rico, San Juan and the countryside/
(vi) An Analysis of the role of music in Puerto Rico's politics and economics.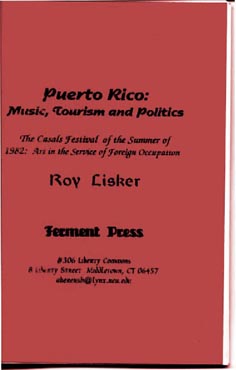 ---
The price of "Puerto Rico, Music Tourism and Politics" is $10.
---
Send check, cash or money order to:
Roy Lisker 8 Liberty Street#306 Middletown,CT 06457 rlisker@yahoo.com
---