Vive La Difference! 2
A Problem Book in Tribute to Notable Women in the History of Mathematics
Roy Lisker, March 2003
"Dear Mr Lisker : Very many thanks for sending me a copy of your work, Vive La Différence! 2. As you say, the booklet helps to fill in some of the blanks in my discussion of the Maupertuis affair. I found your discussion of the mathematics most interesting."
- Roger Pearson, author of the biography "Voltaire Almighty"
Vive La Difference! 2 evokes the scientific world of the French Enlightenment. Mme. Emilie du Chatelet, prodigy, ardent Newtonian, Voltaire's mistress, author of the only translation into French to date of Newton's Principia, was a central figure in the great 18th century controversy over the merits of the universe models of Descartes, Leibniz and Newton. Thus this study is more than an abbreviated biography of an extraordinary woman of the French Enlightenment. It also deals with a period in which the issues in mathematics and physics that continue to arouse controversy today, were first enunciated.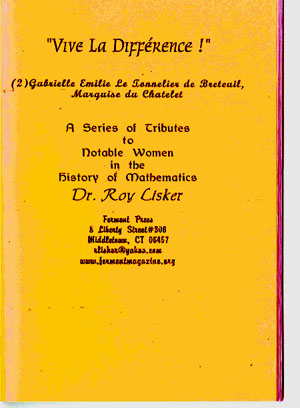 ---
The scientific content of
Vive La Différence! 2
is at the level of graduate students and advanced undergraduates.The historical material may be read by anyone interested in this unique phase of European intellectual history.
Table of Contents
Introduction
Emilie du Chatelet
Voltaire
Pierre Maupertuis
Commentary:Descartes versus Newton
Cartesian Mechanics in
"Trains and Fly"

The Great Imbroglio
Commentary:Newton/Leibniz
Action at a Distance:
" Conical Gravity"

Bibliography

---

The price of "Vive La Difference 2!" is $15

---

Send check, cash or money order to:

Roy Lisker
8 Liberty Street#306
Middletown,CT 06457
rlisker@yahoo.com

---